Jesus gave a new commandment, "Love one another as I have loved you" John 13:34
Statement of Intent
As part of God's family at Saint Joseph's School we believe that the life and light of Jesus is present in each and every one of us.  And so, we will live the Good News as Jesus showed us.
In doing so we grow in love recognising and respecting that we are all special, celebrating our uniqueness, learning together, caring for and serving one another.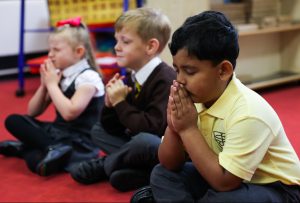 We celebrate the uniqueness of every individual and recognising the talents they bring to our school.
We use the gifts and talents given to us by God for the good of ourselves and for others.
We off the hand of friendship to those we meet every day.
We give of ourselves to help those in the local community and wider world.
In this way we will grow together as Gospel people following Jesus' commandment.
Come and See

At St. Joseph's School we use 'Come and See' religious programme of study as our RE scheme.
This material has been written by a group of experienced diocesan advisors and is based on the theological foundations of the Second Vatican Council, the Catholic Catechism and the revised RE Curriculum Directory and includes the Catholic attainment levels.
It has been developed to respond to the children of the 21st Century in their journey of faith, giving children the children the opportunity to explore the mystery of faith through scripture and tradition. It also makes clear links with the children's own experiences to ensure that learning becomes meaningful for our children.
Our Religious Education curriculum influences all aspects of school life and is underpinned by the four strands of our Mission Statement in that we are a caring school; a learning school; a serving school and a celebrating school.
The religious programme, 'Come and See' is the core RE scheme at St Joseph's.  Links are made with the children's own experiences and the curriculum is adapted to make it real and meaningful to our children. We teach Religious Education through the process of Explore, Reveal, Respond.