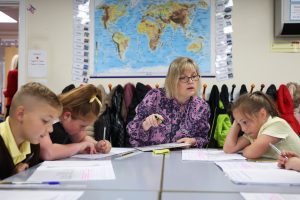 Jesus gave a new commandment, "Love one another as I have loved you" John 13:34
As part of God's family at Saint Joseph's School we believe that the life and light of Jesus is present in each and every one of us. And so, we will live the Good News as Jesus showed us.
In doing so we grow in love recognising and respecting that we are all special, celebrating our uniqueness, learning together, caring for and serving one another.
And so we are:
A Celebrating School
Celebrating the uniqueness of every individual and recognising the talents they bring to our school.
A Learning School
Using the gifts and talents given to us by God for the good of ourselves and for others.
A Caring School
Offering the hand of friendship to those we meet every day.
A Serving School
Giving of ourselves to help those in the local community and wider world.
In this way we will grow together as Gospel people following Jesus' commandment.