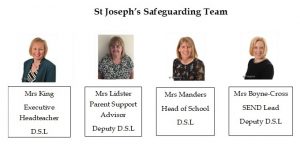 Safeguarding at St. Joseph's
All schools have a statutory duty to safeguard and promote the welfare of children. At St. Joseph's we take this responsibility very seriously.
If you have any concerns about the safety of a child or young person whilst visiting our school, please speak to a member of staff who will be able to help you. If you are unsure of what to do or who to speak to, please contact the member of staff on reception.
Keeping Yourself and Others safe at St. Joseph's
* Please follow all the visitor procedures that we ask of you as a visitor as outlined when you sign in.
*  Please report anything that concerns you whilst in the school in relation to any aspect of safety.
* We expect all members or the community to speak to each other respectfully and to be considerate of the needs of others. If you experience or witness a lack of respect during your visit, please let a member of staff know.
* In most cases you should not be left in a situation where you are alone with pupils and unaccompanied. Please let a member of staff know should this happen.
* Please note that mobile phones are to be used away from children.
* Taking photos of pupils without consent is strictly forbidden.
Please click on the link(s) below to download/view copies of documents:-