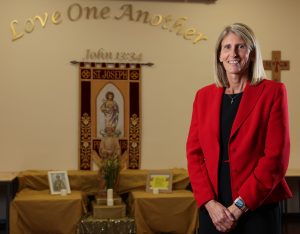 St. Joseph's Catholic Primary School, a Catholic Voluntary Academy is for children between the ages of 3 to 11 years. It was built in 1933 and consists of 13 classrooms including a nursery, and also an ICT suite, library, and extensive grounds.
We are noted for our outstanding ethos and for a nurturing and welcoming spirit. St Joseph's has a distinctive caring Ethos, which is rooted in the Gospel Values we value highly as a Catholic School.
Our vision is to be a fully inclusive school offering all who work and learn here the best possible opportunity for nurturing, learning and self-development. The school believes in the uniqueness of each individual and our aim is to regard every pupil as gifted and talented in some way. All of the staff in the school work unstintingly to develop the potential of each child to the full.
St Joseph's has an ethos of respect which is highly evident. We want our children to really believe that they can be the best, to recognize themselves as able and talented individuals and to maximize all opportunities presented to them. We aim for them to learn how to become lifelong learners so that they will continue to make progress and develop throughout every phase of their learning.
Ultimately our aim is for all of the pupils to grow into well-rounded well-balanced responsible members of society. In order to work towards achieving this we depend upon the strong partnership we have developed in the community. In particular we value and depend upon the support of parents and the very strong links we have with St Joseph's Parish church.
Again we welcome you to the pages of our website and please contact the school should you wish to visit.
Yours sincerely,
Elizabeth King                                            Jill Manders
Executive Headteacher                           Head of School